Rating section:
Bonuses: 0/100
Software: 100/100
Customer Support: 90/100
Options Choice: 95/100
Overall: 90/100
Summary
In terms of bonuses, IQ Option scored 0 as the company is regulated by CySEC and this regulator strictly prohibits its member brokers to use bonuses to attract customers. The software score is really high as this is arguably one of the best platforms in the industry and can be used on a number of devices. The company has excellent customer support which is offered 24/7 online and on a number of other channels. In 5 different areas options are offered comprising of millions of available assets and therefore we give options choice rating 95/100.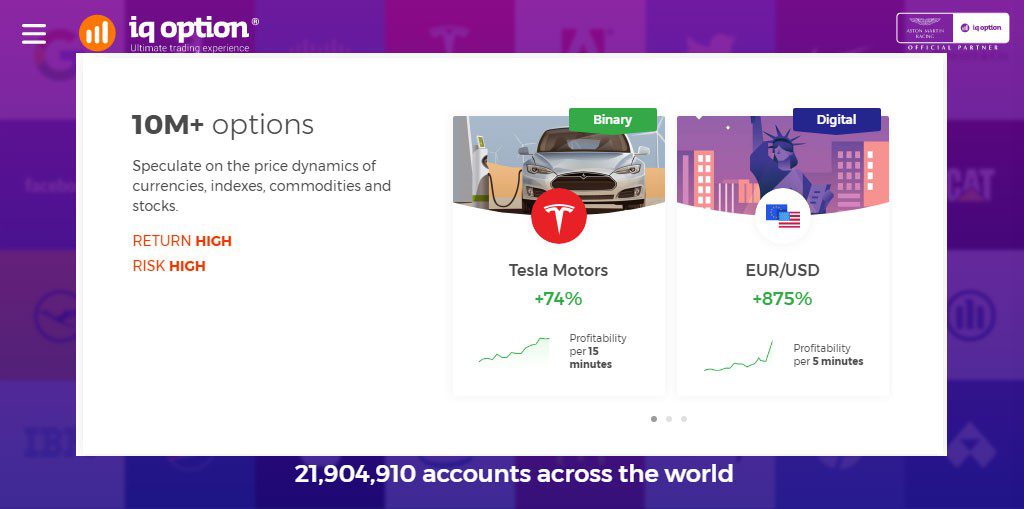 As it is relatively easy to trade binary options, it has become the trading type of choice for many people. Advanced software, a huge number of brokers, and a multitude of options to choose from all sounds very enticing and encouraging. However, huge losses, scams and unregulated brokers and undelivered promises cloud the industry. More and more clients are unhappy with the services they are getting. Fortunately, the industry is becoming more highly regulated, with stricter and stricter requirements and rules from regulators to their brokers have improved the prospects of a qualitative service for investors. IQ Option has become a leading regulated binary options broker in the market and we are going to explore why, over the course of this in-depth review.
Company information
IQ Option was founded in 2013 and is regulated by Cyprus financial regulator CySEC (Licence number 247/14) with its jurisdiction in the Seychelles. The company has been growing in leaps and bounds in all aspects.
The number of customers has increased from 950 000 in 2014 to almost 15 million in 2016. The number of trades per day has increased from 200 00 in 2014 to almost 3 million in 2016. Traders withdrew around half a million dollars per month in 2014 and after two years the number increased to almost 6 million dollars per month.
IQ Option offers lots of financial instruments across five categories: crypto, forex, options, stocks and ETFs. Its unique, state of the art IQ Option platform is available for mobile, desktop and browser. The company has won over ten significant awards (Best binary options broker/trading application, Century International Quality, Best Technology Application, Most Innovative platform, Best Mobile Trading Application and many more), which testifies to its credibiltiy and the quality of services it provides.
Bonuses & VIP programs
It has already been stated that CySEC the official Cyprus regulator for financial markets prohibits bonuses for all brokers under its regulation. Therefore, currently IQ Option cannot offer any bonus money for traders who open real money accounts.
However, the company offers VIP account for its customers. If you deposit $3000 or more, you will be eligible for a VIP account. A VIP account holder has certain privileges. They are: quicker withdrawals (within just 24 hours), while basic account holders will have to wait three business days before they get their money. This special account also gets a personal fund manager that will assist you in various aspects connected to your trading. You will also get free training to help you become a better trader. Some assets will have extra profitability when you trade them, which will enable you to get bigger returns on your investment. Last, but not least, you will get free access to tournaments which are regularly organized by the company.
Fees, payouts and Trading features
IQ Option stands out above other brokers with its minimum deposit requirements. The smallest amount you can deposit is $10 and the smallest trade amount you can make is just $1. It means that virtually anybody from any country can have a go at trading options with this company. Their payouts are also impressive. On average they can be from 5 to 10 percent higher than the industry average. The maximum payout for a successful trade can be up to 91%. It goes without saying that these extra percentages add up to your profits if you make money consistently. The smallest trade with the broker is 1$ and the biggest one is $5000.
Trading Platforms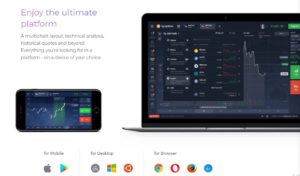 The company has developed its own state of the art platform – IQ Option 4.0 software, which is an innovative product with built in multi chart layout, technical analysis, historical quotes that date a number of years back. You can use the program on the device of your choice: mobile (it works for both iOS and Android), download platform or in a browser (all major browsers). The platform is user friendly and easy to use and has won the prestigious Best Technology Application award in 2016, the Best Innovative Binary Options Platform and Best Mobile Trading Platform awards in 2015 as well as Best Trading Platform in 2014.
Mobile Trading
As mobile trading has been increasing recently, right from its launch in 2013 IQ Option started developing and improving its mobile application for trading. No wonder it has won a number of awards in the area! The app is now available for both iOS and Android devices and it is available in Apple App Store and Google Play Store (for Android devices).
The app is user friendly, contrary to most apps of their competitors that can be extremely difficult to use. Despite the fact that it has a lot of technical features, it is still easy to use and also fast. Placing trades is a simple process and the broker has videos that can help you to understand how to implement each step in trading from their app. According to most users it is even simpler to use than desktop or browser platforms. Therefore, the number of investors using the app is increasing day by day.
Deposits and withdrawals
Like most brokers IQ Option allows its customers to deposit and withdraw money in a number of ways. Those include: Credit/debit cards (Visa, Mastercard, Maestro), Bank transfer, Wire Transfer and most popular eWallets (Skrill, Neteller, Webmoney and etc.). The speed of processing your withdrawals depends on whether you have a basic or VIP account.
For basic accounts a typical withdrawal time is 3 business days and for VIP accounts 24 hours. In both cases, processing time is quite fast in comparison to other brokers where withdrawals are typically allowed just once per month. The maximum deposit amount within 24 hours is $1 million. So, basically restrictions regarding deposit and withdrawal amounts are non existent.
Customer support
It is not an easy job for a company that has over 15 million customers to handle support with excellence. Well, IQ Option does it. It has 11 offices worldwide that can be reached by email, Skype, telephone or a chat. The company provides its services for customers in a number of languages and the number is growing daily.
You can be serviced in these languages: Arabic, Chinese, English, French, German, Indonesian, Italian, Korean, Portuguese, Spanish, Swedish and Turkish. With the growth of customers, IQ Option customer service response to client requests in Chat has decreased from 7 minutes to 46 seconds, ticket processing time from 5 hours to 24 minutes and the support department has grown from 15 employees to 50. As you may see, quality of service has increased in a matter of a few years and it shows no sign of slowing.
Extra features and resources
Educational resources are some of the best additional features that this broker offers. IQ Option was the first one to offer a free demo account to their customers and only then the rest of the brokers started doing the same. The broker was also a pioneer in offering their clients interactive learning tools by means of educational videos and huge number of tutorials. Directly from the IQ Option platform you can get lots of analysis of a technical nature that will help you to spot and identify trends and chart patterns and trade them successfully. The company also organizes trading contests and you can join them and compete for huge prize pools that often go up to $20 000 or more.
Verdict
Taking into account all the things that have been mentioned in the review we can state without a shadow of doubt that IQ Option is probably one the best binary options brokers in the industry. Despite the fact, it is relatively new, it has gained a tremendous amount of customers for a very god reason. It has excellent software which is unbelievably fast and an efficient customer service and excellent educational base.
Pros:
Amazing trading software
Huge amount of trading assets to choose from
The highest returns on successful trades
Easy to use and user friendly platform
Very low initial deposit of just 10$
Free of charge demo account
CySEC regulated broker
Excellent quality learning tools
Cons:
Investors form Australia, Belgium, Canada, Iran, Israel, Japan, North Korea, Russia, Sudan, Syria, Turkey and USA not accepted.
Restrictions for using iOS for traders from Malta and for Android from Cuba, Liechtenstein, Malta and Myanmar.
FAQ
Do you charge a commission on deposits and withdrawals?
IQoption don't charge fees or commissions for either deposits or withdrawals using a credit or debit card. A commission is charged for withdrawals via wire transfer to your bank account. This covers the cost of the transfer IQOption pay to the bank for processing the transaction.
Can I trade over the weekend?
On the weekend, all exchanges are closed and you can only trade crypto currencies such as Bitcoins.
Do you charge commission if i do not use my account?
If your trading account is inactive for 90 days and there is money inside your account IQOption will deduct 50 Euros for servicing the account.
Do I need to provide any identification to place a withdrawal order?
Yes. As with most regulated brokers you  will need to verify your identity before you can withdraw funds. This is done to protect against money laundering..