Rating section:
Bonuses: 80/100
Software:: 95/100
Customer Support: 90/100
Options Choice: 85/100
Overall: 90/100
Summary:
Overall this broker scored a stupendous 90/100. In fact, most of the areas that we looked at, came in well above average. We hardly found anything significant to complain about when it comes to the services HighLow provides.  Bonuses scored an 80/100 for a wide selection and the ability to get $50 just for signing up, the software is intuitive and easy to use and as such,  scored 95/100, customer support is second to none, with its fast turnaround and well-trained staff and the options choice is wide and varied, capable of satisfying even the most demanding of traders.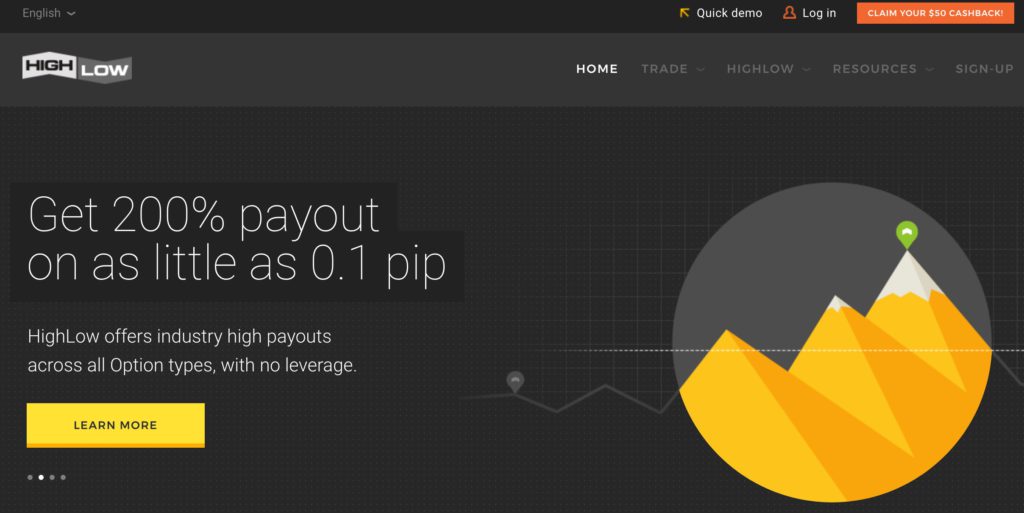 A lot of brokers that offer their binary options services to investors are not regulated. Those that actually are regulated are often regulated by some unrecognized regulator with loose regulatory framework and not very strict rules for brokers. When you find a company that is regulated by a top regulatory body, acknowledged across the world then it's worth taking a second look. HighLow is one of those brokers that is entirely respected, trusted and is regulated by a top global regulator and we are going to give you our honest review about their services.
Company information
HighLow was incorporated in 2010 under the name of Highlow Markets Pty. Ltd. Place of location Level 14, Macquarie House 167 Macquarie Street Sydney, NSW 2000, Australia. Its license of AFSL (Australian Financial Services License) registration No.364264, its company number: 143 553 628, Australian business number: 85143553628 and it is regulated by ASIC (Australian Securities and Investments Commission).
It keeps clients money in segregated accounts in one of the most trusted banks in Australia, the National Bank of Australia. The broker uses a state of-the-art proprietary trading platform and also offers a free demo account that you do not have to download.
Assets available

The broker's offered number of assets falls in the middle in comparison to the industry average. They have assets in the following categories: precious metals, stock indices and currency pairs. Overall, the list is over 80 instruments in these categories. It may not be much, but each category has the most popular instruments traders trade such as Gold in precious metals, or US30 and UK100 in indices, or EUR/USD and GBP/USD in currencies.
Trading the instruments is very easy to do,  as on your platform you can see a chart of the security, a window for choosing the amount to trade, the type of option (you simply click it) and finally invest button. After you click it, your trade is on.
Bonuses & VIP programs
HighLow always have a new promotion in place. At the moment they have a $50cash back on your first trade. It is a sign up bonus, which you get after you open your free account and after your first trade that $50 is yours. It does not matter whether you win or lose. The best part about it is that you can withdraw it any time you want. The moment it is granted to you, it can be withdrawn without any need to reach a certain trading volume (30 times is the industry average).
That clearly shows how transparent this broker is with its offering. You can also get a free demo, which you do not have to download. You can simply practice right there on their website and learn how their platform functions or practice your trading strategies. You will get $10000 of virtual money to start with.
The broker also has a loyalty program where they offer HighLow points through which a pending cashback can be received, through points earned in the previous month. Those points are accumulated depending on your tier level with the broker.
Fees, payouts and Trading features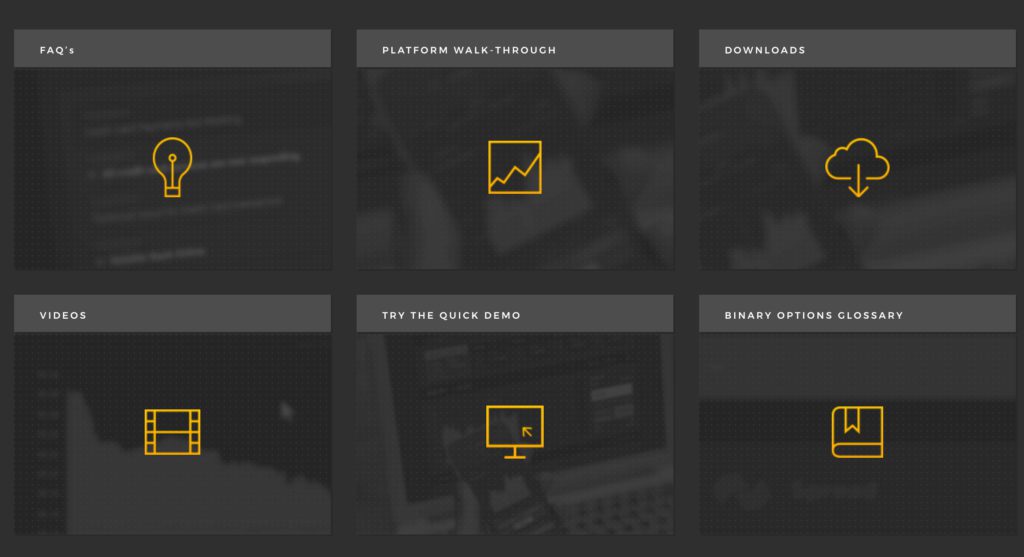 The broker does not charge any fees for your trading transactions. Minimum deposit with the broker is $50 or any other currency that they accept. The maximum deposit amount is not indicated and we assume it may be large taking into account the amounts that can be withdrawn to e-wallets. Minimum trade amount is $10 or any other currency that HighLow broker operates with (Australian dollar, US dollar, Euro and British Pound). Maximum trade size per one option is $2000 or 1500 Euros. They also have maximum position per option, which is AUD $50,000, USD $50,000, GBP £50,000, EUR €50,000 and also maximum exposure per account, which is: AUD $150,000, USD $150,000, GBP £150,000, EUR €150,000.
Payout percentages differ depending upon options you trade. On average they can reach about 90%, which is very high, but on specific options and specific expiry times you can even get 180-200% payouts, which is incredibly high.
Trading Platforms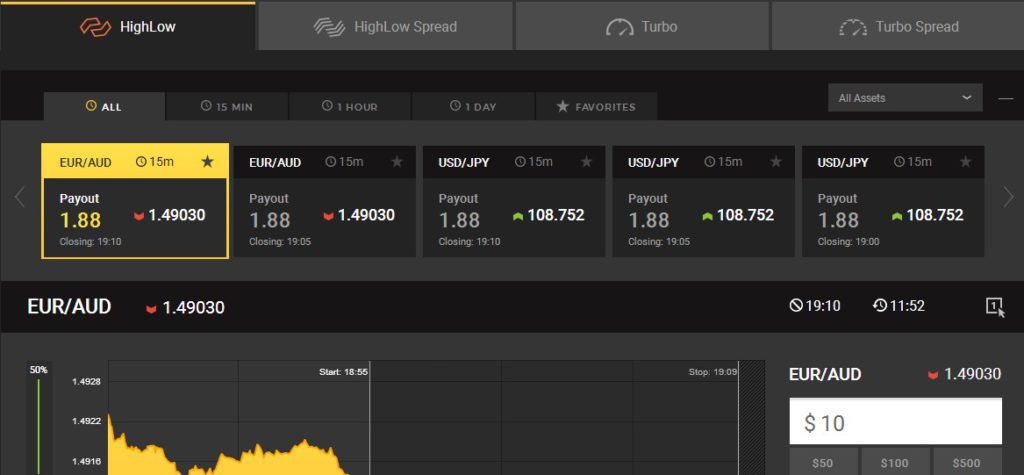 HighLow trading platform looks professional indeed. They use the MarketPulse platform and the things they have done with it is really impressive to see. It is both easy to use and user friendly. Everything is clear, every button, each sign and implementation of trades is simple. The colors of the platform give an artistic feel to the act of trading and it really is a pleasure to use.
Leverate is the company that provides them with data. There is Trader's Choice option on the platform, which is activated after 4 trades are executed, so you can clearly see what the other trader's sentiment is with HighLow. You can try the replica of the platform on a free demo account right on their website. It is really useful to practice with.
You can trade classical high/low options and get paybacks as high as 180-200% on your investment. Another option kind is HighLow spread, which as you may know is the pricing method in the currency market and again you can get 200% on your investment with this kind of option. This is good for those traders who expect large market movements and want bigger payouts. Other two options are Turbo and Turbo Spread. These options may last from 30 seconds to 5 minutes and are good for those traders who like speed and are good at forecasting very short term moves.
Mobile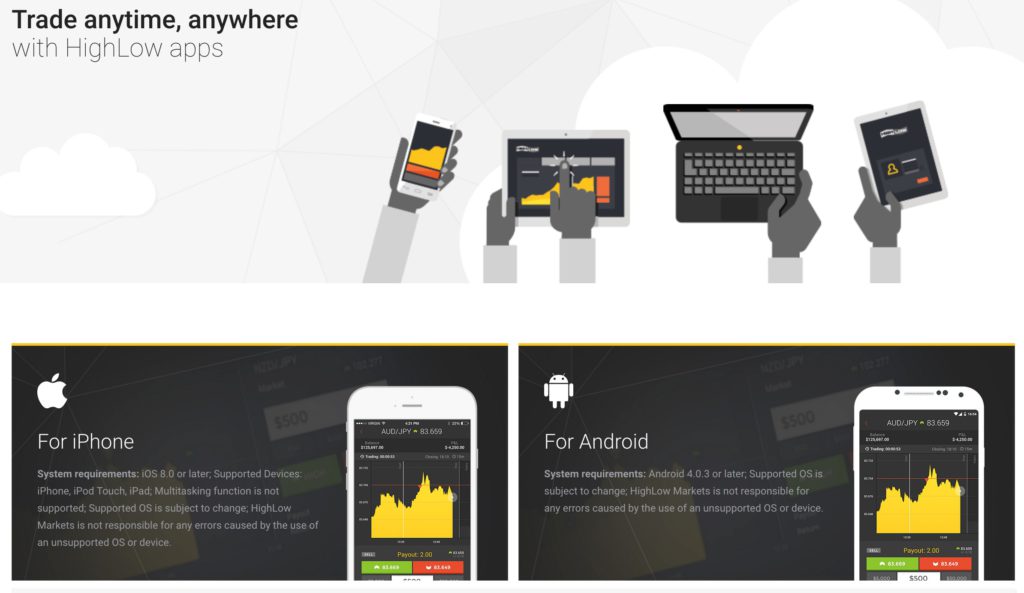 Traders may choose from web based, iOS, Android and Desktop platforms. As you may see the broker supports both Apple and Android devices. You can go to their download section where you can read about requirements for mobile devices and also download necessary software to trade on your mobile. Mobile trading platform is as easy to use as a desktop or browser varsion and you can trade from the comfort of your hone, on the road, or wherever internet is available to you.
Deposits and withdrawals
We want to remind you again, that HighLow is a regulated broker and it keeps its clients money in segregated accounts in one of the most trusted banks in Australia, the National Bank of Australia, so your funds are safe at all times. The broker does not offer too many ways of depositing or withdrawing. The most popular ones are e-wallets, probably due to the fact that the broker is in Australia and banking transfer fees can be expensive. You can deposit and withdraw via bank transfer, but you will have to pay a fixed $20 fee. You can deposit via e-wallets and credit cards. The minimum deposit is $50.
If you use Neteller, your deposit and withdrawals are instant, which is way better than the industry average. However, 2 percent fee is deducted from your account for a withdrawal. Bank wire takes just 1-3 business days, so if you are an international customer, this is very fast. The last thing is that credit cards cannot be used for withdrawals, which is a drawback, but as there are other ways to withdraw we hope that is not a problem for most investors.
Customer support
We have found out that the broker offers great support for their customers. They have a very extensive FAQ section with a lot of info there. If you don't happen to find the answers to your questions, you should contact them by email with your problem and they will open a ticket and analyze your problem or complaint. You can also call them over the phone and they will gladly deal with your issues.
As a lot of problems are dealt with in the FAQ, in some cases, you probably won't need to go beyond that, but if you do, feel free to contact them, you will find that the staff are helpful. Unfortunately, they do not have a live chat on their website, which was a bit disappointing to discover. Apart from that, the support team is excellent.
Extra features and resources
HighLow has an excellent base for education. The broker has done a great job in informing traders on how things work, how to trade, what the risks are. They have a walk through page which guides you on their trading platform and where you can find all the ins and outs about their product. There are lots of articles 'In the Money' section of the website that teaches newbies and intermediate traders about markets, fundamental and technical analysis and etc.
There is also a download section where the trading platform, mobile apps and other useful things can be downloaded. Novice traders can check out the glossary to learn and understand the key terms related to binary trading. Very useful! They also have an educational video library where you can educate yourself on a lot of aspects of trading binary options.
Verdict
HighLow is a reliable and trustworthy regulated binary options broker who has excellent customer service, an amazing trading platform and a huge educational base for traders of all levels as well as a dynamic bonus system.
Pros:
24/7 Customer Support
Regulated
Excellent educational base
Free Demo account
Good selection of bonuses
Fast deposits and withdrawals
Cons:
US traders not accepted
They charge fees on withdrawals
FAQ
Are my funds safe?
Very, HighLow keeps cients funds separate from their own accounts.Unlike other brokers they do not use client funds to hedge against their own positions.
How do I open a Demo Account?
You can access the demo account through their website, it is free and easy to use.You will have access to  $10,000 of virtual funds. For the demo no registration is required.
What are HighLow Points?
HighLow Points is the loyalty program of the broker, where you can collect cashback through points earned in the prior month. Points are accumulated over the month.