Rating section:
Bonuses: 60/100
Software: 85/100
Customer Support: 60/100
Options Choice: 85/100
Overall: 73/100
Summary
The bonuses offered by ExpertOption are generous, going up to 125% on larger deposits. The program is however is let down to an extent by a x50 turnover requirement on bonuses before withdrawals can then be made. ExpertOption's proprietary trading technology is to a high standard and technical analysis tools are a particular highlight. One criticism that some traders might have is that only classic binary options can be traded and there are no alternative formats available.
Customer support could be improved with only live chat an option and could be improved by adding telephone support as an option. A good range of over 100 tradeable assets are available, including several cryptocurrency options.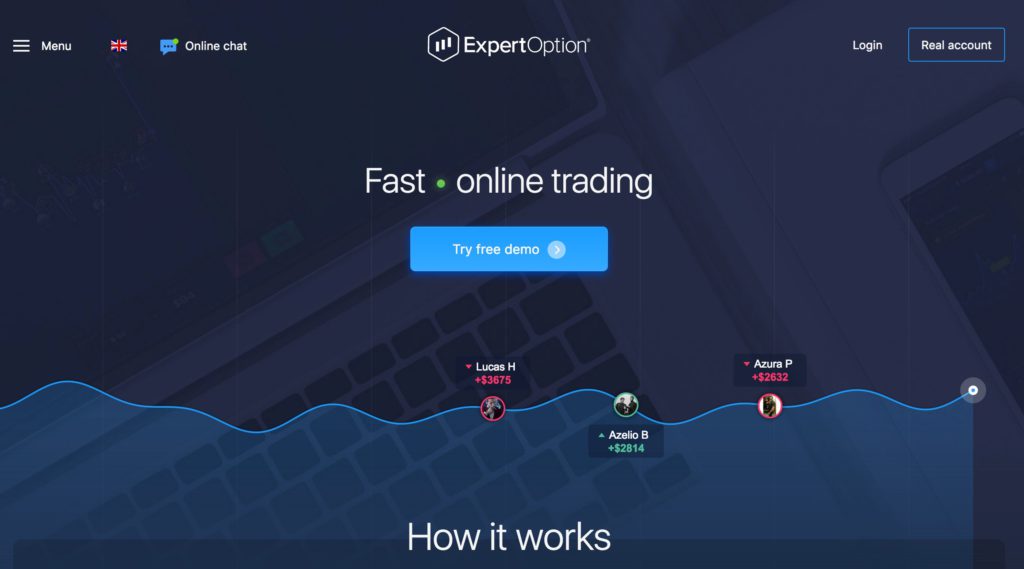 Arriving at a decision on a binary options broker to trade with is a process that is not light on time investment if the correct research is conducted thoroughly. There are numerous binary options brokers to choose between and they all have their particular strengths and weaknesses when it comes to their trading platforms, service level, pricing and reliability.
We've tried to take as much of the binary options broker research time commitment as possible away from traders by detailing their most important qualities and characteristics ourselves. In this particular review, we cover ExpertOption.
Company Information
ExpertOption is registered and regulated in Vanuata, conducts operations out of Cyprus and was founded in 2014. Originally founded by a Russian team, ExpertOption has opened over 4 million trading accounts over the past 3 years and executes over 30 million binary options trades each month.
The company has two different sets of regulatory overviews. The first is voluntary regulation under the FMRRC (Financial Market Regulations Center), an independent non-commercial organisation that provides regulation for a fee to Russian brokers. Binary Options and CFD brokers do not have an official government regulatory body in Russia and the FMRRC charges members a fee to be accredited and regulated by the organization. However, it should be noted the organisation has no official legal powers to regulated its members. Should they fail to adhere to its voluntary rules the only recourse the regulator has is to withdraw its accreditation.
Vanuatu Financial Services Commission is ExpertOption's second regulatory regime and this time an official government regulatory body.
The regulatory requirements, such as keeping client funds and capital to cover all trading positions, in segregated bank accounts, are the same as would be the case with CYSEC or FCA regulation. The main difference is the island nation's regulatory requirements for brokers stipulate lower minimum capitalization. Nonetheless, it is an official regulatory regime and provides a level of security for traders in a market where many binary options brokers are not regulated in any way.
Trading Software
ExpertOption's trading platform software is proprietary rather than a white label version of one of the big binary options software providers. It has been developed entirely in-house and comes in both browser-based and downloadable software formats for both Windows and Mac OS.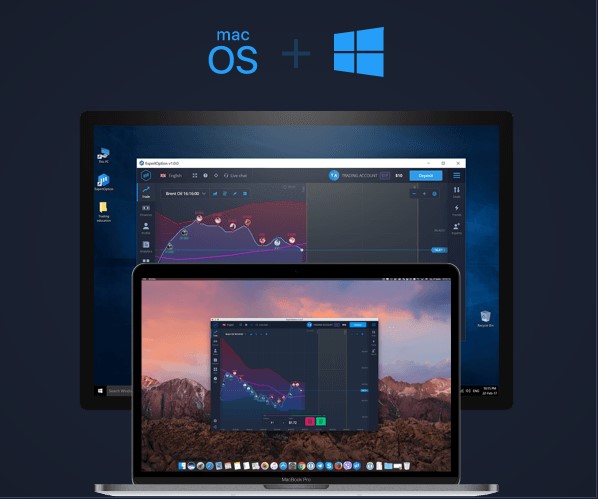 The design is modern and pleasing on the eye, while navigation between functions is convenient and placing trades intuitive. Order execution is a strength with no delays apparent while we were trialing the platform.
ExpertOption has integrated a number of useful technical analysis tools into the platform including 4 different chart formats, 8 technical analysis indicators and trend lines. Most binary options trading platforms don't have such advanced technical analysis tools and more experienced traders will particularly appreciate this.
It's also good for beginners to get used to doing proper analysis before placing binary options trades from the very beginning, something that the tools the platform makes available can only encourage.
Social trading functionalities are also a major feature of the platform and it can be very informative to study the positions taken by the platform's most successful traders. Social trading also facilitates mirror trading – copying the trades taken by other users, though still with the ability to increase or reduce the value of those positions.
ExpertOption's trading platform only offers classic high/low binary options and not some of the variations that have become common alternative options, such as One Touch, 60-Second or Ladder Binary Options. This may be an issue for some traders but the vast majority of binary options traders stick to classic options in any case.
Mobile
ExpertOption has also developed native Android and iOS app versions of the platform which are downloadable for free from the Google Play and Apple App stores.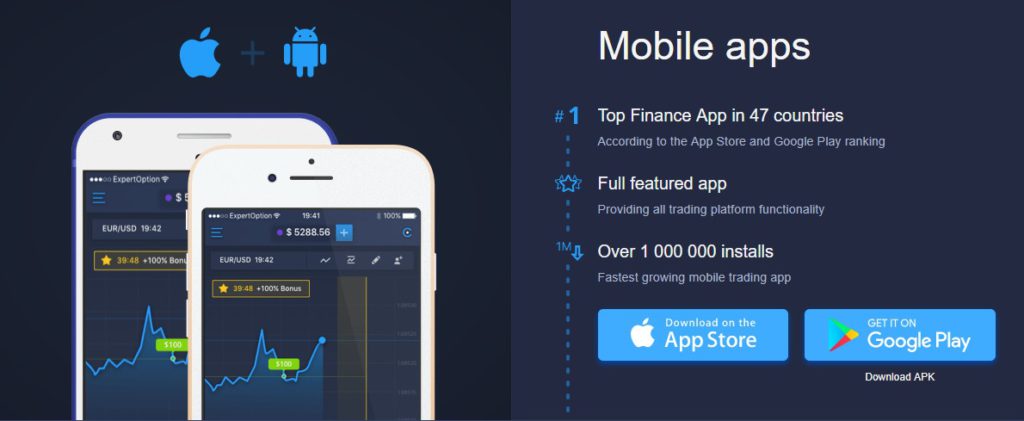 User feedback of the apps is positive and delayed execution times, often an issue with mobile trading apps, has been avoided. The development team have done a good job when it comes to retaining functionalities such as charting and indicators, while cleanly adapting them to the smaller screen format necessary for use on smartphones.
Assets available
ExpertOption traders have a strong range of over 100 different trade-able assets available to them. Forex pairs, indices including the FTSE 100, Nasdaq, Dow Jones, DAX 30, commodities gold and oil and individual company stocks are all included in the list. Traders with a particular interest in cryptocurrencies will be happy to know that Bitcoin cash and several Bitcoin/fiat pairs comprise part of the trade-able assets list as do Ethereum and Litecoin.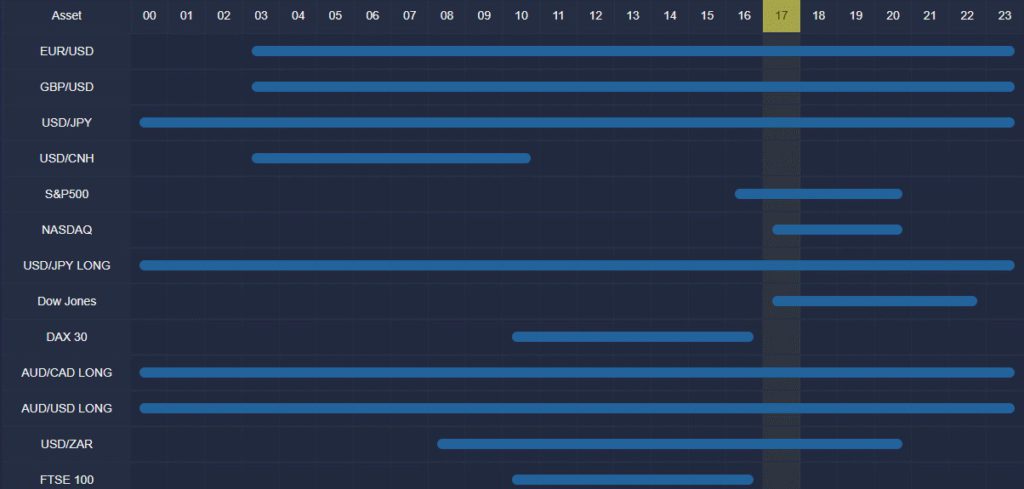 Trading Features, Fees and Payouts
ExpertOption traders have access to four different levels of trading account, differentiated by the value of the trader's initial deposit:
The different account types come with different added features and auxiliary services. Mini accounts require only a $50 initial deposit to open and provide access to the trading platform and all educational materials. Maximum binary options values with a Mini account are $50 and a maximum of 10 trades can be open at any one time.
Silver accounts, with a $250 minimum deposit, have a $100 maximum trade value, allow 15 trade positions to be open at any one time and come with a personal account manager. An initial deposit of $1000 comes with a Gold account, maximum trade value of $300, no limit to number of open trades and also with a personal account manager. Additional perks are slightly higher payouts, prioritised withdrawal processing times and a consultancy session with an expert trader.
Finally, a VIP account, which requires an initial $2500 deposit, allows trade positions of values up to $1000 to be placed, all the perks of a Gold account and the addition of individual trade history analysis.
There are no fees applied by ExpertOption to opening an account or trading. No fees applicable to the administration of inactive accounts or withdrawals are mentioned in the company's terms and conditions.
Payouts can reach a maximum of 95% of the binary option's initial value.
Bonuses & VIP programs
ExpertOption's bonus programme is, as tends to be the case with binary options brokers, connected to the value of deposit made into the trading account. Mini accounts come with a 50% funds top-up bonus, Silver accounts with 80%, Gold accounts with 100% and VIP accounts 125%.
The conditions attached to bonuses mean that the value of the bonus must see a x50 turnover before a withdrawal can then be made, if the bonus is accepted. This is, it has to be said, quite high and as such traders should consider carefully as to whether they would like to accept bonuses offered.
Deposits and withdrawals
Deposits and withdrawals can be processed by either Visa, Mastercard Maestro or UnionPay debit and credit cards as well as several major e-payment providers including Skrill, Neteller and AliPay. The minimum permissible deposit is $50, as is the minimum withdrawal and withdrawals are processed within 2 days.
Customer Support
Customer support is provided via live chat only with no telephone or email support details apparent. All of the languages (English, Mandarin, Cantonese, Arabic, Turkish, Hindi, Thai, Vietnamese, Indonesian and Malaysian Bahasa, Russian, Spanish and Portuguese) the trading platform supports are also provided for customer support.
Extra features and resources
The main extra features ExpertOption provides are the charting and indicator packages that have been built in to the trading platform as well as a comprehensive binary options trading education resource and social trading. Consultation sessions with expert traders are also provided to Gold and VIP account holders.
Verdict
ExpertOption's proprietary trading platform is a very nice product and the value-added inclusion of technical indicators onto charting will be appreciated by many binary options traders. The fact that only classic binary options are available as a format might be considered as a drawback to more adventurous traders but will satisfy the majority. The range of available assets to trade is good and the inclusion of several cryptocurrency options can be considered as a strong competitive advantage.
Customer support options could be improved with only live chat available, as could the addition of bank transfer as a deposit and withdrawal method. While some traders prefer to trade only with brokers regulated within Europe, the fact that ExpertOption does have some form of regulation, in Vanuata, is a step up on many binary options brokerages. Altogether a good, solid broker option.
FAQ
What is the minimum trade size available from ExpertOption?
The minimum trade size is $1. Against a $10 industry average this will appeal to less experienced traders.
What is ExpertOption's minimum deposit?
The minimum account deposit is $50
What is ExpertOption's minimum withdrawal amount?
A minimum of $50 can be withdrawn from an ExpertOption trading account.