Rating section:
Bonuses: 70/100
Software: 75/100
Customer Support: 90/100
Options Choice: 85/100
Overall: 80/100
Summary
BinaryCent's bonus program is generous and the x20 trading turnover that must be reached before withdrawals as a condition of accepting the bonus is less demanding than that of many other binary options brokers. The trading platform itself, which has been developed in-house and is not one of the big white label options, has very intuitive usability, isn't cluttered with unnecessary and distracting functionalities and provides for a high-level trading experience.
A unique and extremely helpful feature of BinaryCent is the in-platform live video feed to customer support. A healthy range of over 100 assets can be traded on the platform and fans of cryptocurrencies will be particularly enamored by the fact that 11 are included in the trade-able assets list.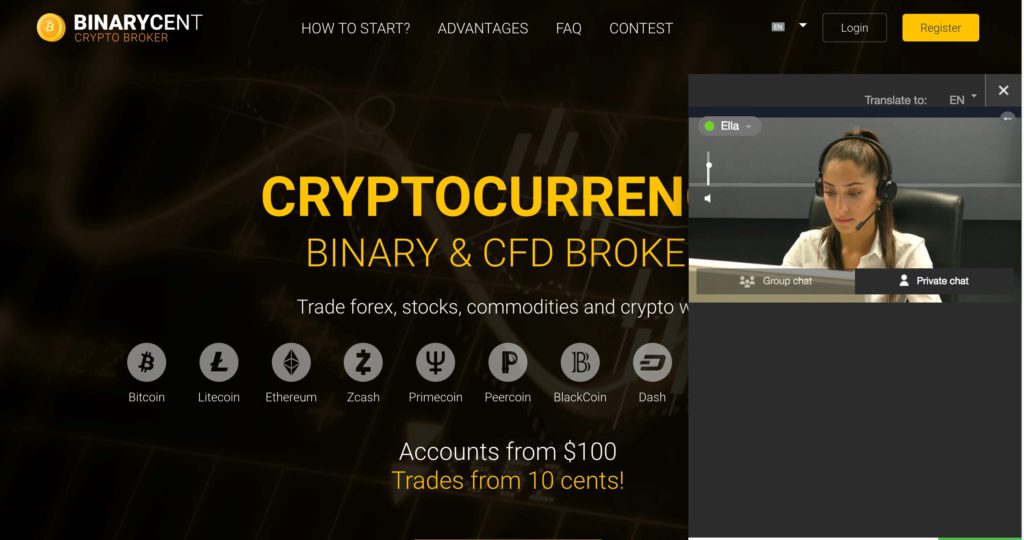 One of the most important decisions binary options traders have to make, is their choice of broker. How enjoyable and successful binary options traders will prove for beginners is very much influenced by whether they start out with a suitable broker. More experienced traders would also be best advised to occasionally try new brokers and research the market to make sure they are taking advantage of the most suitable trading platform, terms and customer service available.
Binary options trading has exploded in popularity over the past few years and with it the number of brokers on the market. As such, conducting the research to establish the most suitable broker can be quite a daunting and time-consuming process for traders. Trading platform, range of tradable assets, fees, general terms and broker security and reputation are all important.
In our binary option brokers review section, we have done our best to make your research more efficient by summarizing much of the key information important to traders on a wide range of brokers. In this particular review, we take a closer look at BinaryCent.
Company Information
BinaryCent, fully-owned and operated by Finance Group Corp., was established in 2015, making it a relatively new entrant to the market. However, the broker has not wasted any time in forging a reputation for itself and in its first year of operations was recognised as Best Broker 2015 in the awards handed out annually by industry media Fair Binary Options. The company is registered in South Pacific territory Vanuatu, a tax haven that has become home to a significant number of companies in recent years, proving particularly popular with the finance and shipping industries.
BinaryCent have positioned themselves as an extremely low-barrier-to-entry brokerage with a minimum deposit value of only $100 and trade stake to open a binary option going as low as $0.1. These conditions naturally make the broker a popular choice with beginners who can gain real-money trading experience within a relatively small budget while learning to become proficient enough to realize sustainable returns.
Trading Software
BinaryCent's trading platform is a proprietary product developed in-house rather than a white label version from one of the industry's specialist platform software providers. The platform's strength lies in its simplicity. Simple, intuitive placing of binary options and tracking and management of open trades is the sole focus of BinaryCent's trading station. The other side of the coin is that a section of traders may feel that the stripped-back nature of the trading experience lacks certain features such as news feeds or charting packages. However, the kind of tools added around the trading functionality of a platform are conveniently and usually without charge found elsewhere online and BinaryCent traders appreciate that this trading platform is 100% focused on the trading itself.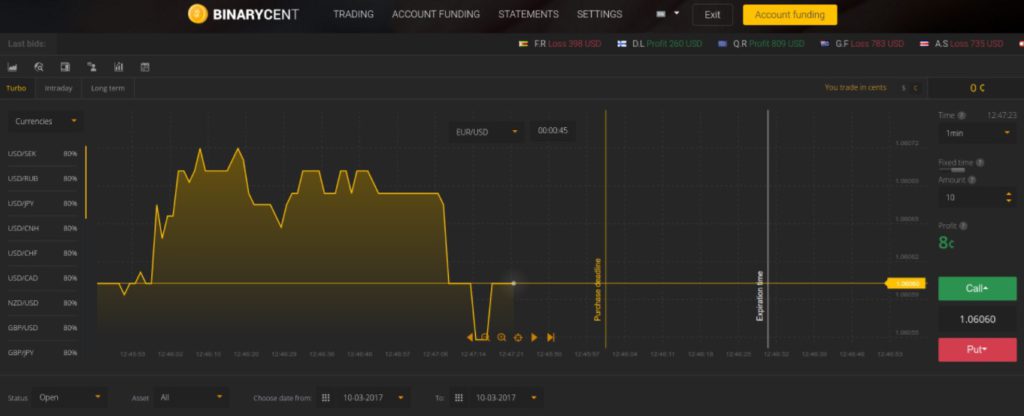 One extra the BinaryCent platform does feature is the constant facility for support via video chat. While the customer support representatives do not provide trading advice, they are permanently on hand for any queries or issues a trader may be having. Again, this feature demonstrates BinaryCent's commitment to beginner traders and their introduction to binary options trading.
The platform is browser based so does not require any software downloads. Traders are able to log into and use their trading account from any device that supports a browser.
Mobile
The clean, trading-focused nature of BinaryCent's trading platform helps make its conversion to mobile app format particularly smooth. With the desktop version in any case lacking clutter and screens with lots of small menus and fiddly functionalities, adapting the layout and dimensions to an optimal format for smaller screens has required little more than minor tweaking. This means that traders already used to the browser-based desktop version can move almost seamlessly to the app version with minimal usability changes to get to grips with.
The app is free to download and use with Android and iOS-compatible versions available.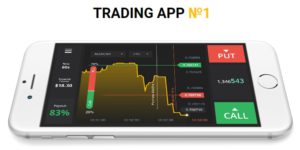 Assets available
Traders have access to over 100 different assets across forex, company stocks and indices. Commodities such as gold are also traded via indices with BinaryCent. Cryptocurrency trading is a particular focus and strength of BinaryCent and seven different cryptos are offered as tradable assests, including Bitcoin, Litecoin and Ethereum.
All BinaryCent price quotes are provided by Thomson Reuters.
Trading Features, Fees and Payouts
As well as classic call/put binary options (also often referred to as high/low), which have expiry times of between half an hour and the end of the trading day, shorter and longer-term options are also offered. Super short-term 'Turbo' options expire within 3 minutes with Long-Term options offering expiry times of up to 3 months.
While many binary options brokers now offer additional formats such as 'One Touch', and 'Ladder' options, the vast majority of traders stick to standard format options. As such, the absence of several different 'alternative' binary option formats is unlikely to be considered a significant shortfall by many traders.
A minimum investment stake of just $0.1, the lowest on the market, is a major USP of BinaryCent and again in line with its policy of providing binary options trading with the lowest possible barrier to entry.
Applicable fees include a $10 maintenance charge to accounts that have not seen at least 1 trading transaction in at least a month. A 5% transfer fee is also charged to withdrawals to debit or credit cards, though no fee is applied to withdrawals to e-payment processors, though the companies themselves may charge.
Payouts reach a maximum of 90%.
Bonuses & VIP programs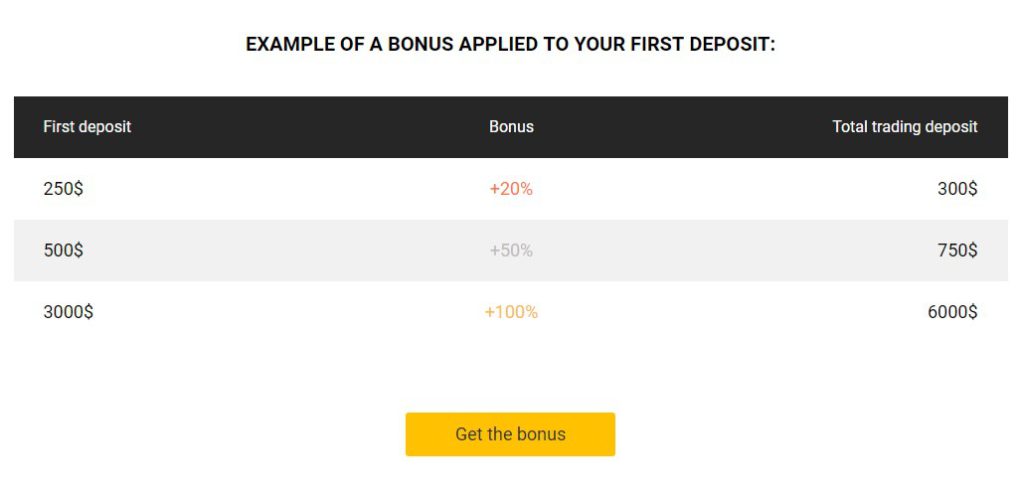 BinaryCent traders are awarded cash top-up bonuses on deposits made into their trading account. The bonus system is tiered with top-ups increasing with the value of the deposit up to a maximum of 100%. The bonus conditions are 20x turnover of the deposit value the bonus is made on, however if the trader does wish to make a withdrawal before that level of turnover has been reached they can do so with the bonus being cancelled and any losses that may have been sustained coming out of the initial deposit itself. Traders who do not wish to be tied to bonus conditions are free to decline the top-ups offered.
New account holders are also awarded 3 'risk free trades' as a starting bonus. This means that if any of their first 3 binary option positions close out of the money, the loss is refunded to the trading account.
Deposits and withdrawals
Deposits into and withdrawals from a BinaryCent trading account can be made via either Visa or Mastercard debit and credit cards, a good range of popular e-payment processors and with 15 alt and cryptocurrencies. As far as we are aware, BinaryCent is the binary options broker offering the richest selection of alt and cryptocurrency payment processing facilities. Traders can not only use cryptocurrencies to process payments but their trading account's base currency can be in a cryptocurrency. One limitation is that BinaryCent does not support bank and wire transfers.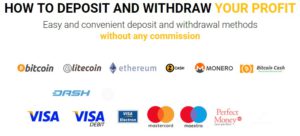 The minimum account deposit is set at just $100 and minimum withdrawal is $50.
Customer Support
As already mentioned, customer support is provided via live video chat available 24/7 with agents speaking English, French, Dutch, Spanish, German, Portuguese, Arabic, Thai and Mandarin. Telephone and email support are also available. Assistance is one thing that BinaryCent traders are certainly not lacking!
Extra features and resources
Social trading where platform users can see the trades being placed by peers, as well as their historical trading records is a popular feature of the BinaryCent platform. Traders can choose to mirror the trades of others, with full control over the value of their own investment stake.
One-to-one mentor-ship with an experienced traded via video chat is also an additional resource available. Traders can choose from a range of areas they may feel they could use some help with such as the practical application of technical analysis when looking for good trading opportunities.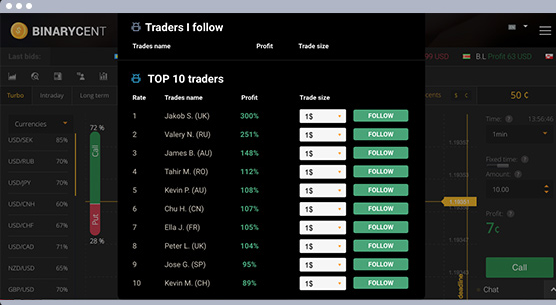 Verdict
BinaryCent's unique advantages are the broker's low $100 deposit requirement and tiny $0.1 minimum investment level. Such a low financial threshold and the accessibility of the trading platform itself means that a great environment for beginner traders is BinaryCent's natural strength. However, there are also many more experienced traders that will also find these qualities appealing.
The accommodation of a wide range of crypto and alt currencies both for use in payment processing and as account base currency is another USP that provides a strong draw as is withdrawals processing times of 1 day. The live video chat customer service is another standout feature.
There will be traders who want more than the 100+ assets available to trade via BinaryCent, or who want a trading platform with more additional and complex functionality. However, most will consider the trading experience and general service provided by BinaryCent to be of top quality. Overall, a good choice of binary options broker, particularly for beginner traders.
FAQ
What is the minimum investment level on the BinaryCent trading platform?
The minimum investment position is $0.1.
What is the minimum deposit that can be made into a BinaryCent trading account?
The minimum deposit is $100.
Do BinaryCent offer Bitcoin trading or other cryptocurrencies ?
Yes, 11 different cryptocurrencies can be traded as binary options.