Rating section:
Bonuses: 80/100
Software: 60/100
Customer Support: 80/100
Options Choice: 80/100
Overall: 75/100
Summary
Deposit bonuses are generous and transparent and also come with very reasonable x10 to x14 turnover conditions. The trading software provided is simple and doesn't come with much in the way of extras. It is, however, very easy to use and will appeal particularly to beginners in financial markets trading. Customer support is very good but live chat could be added to telephone and email support and the range of tradable assets, at over 100, is a plus.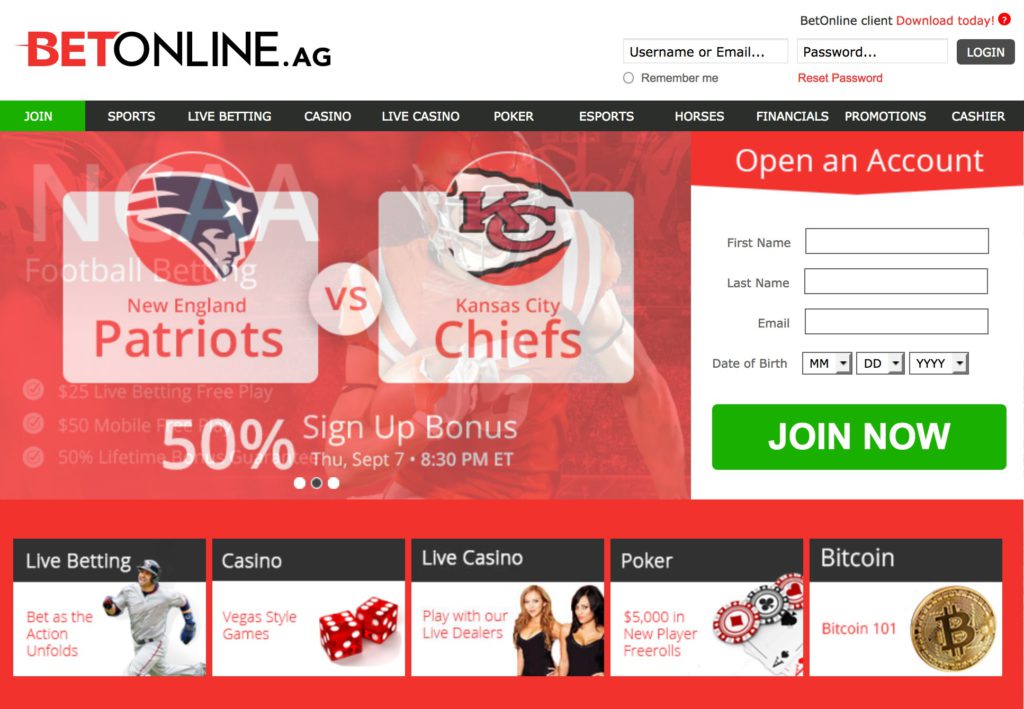 With more brokerage options than ever before competing for binary options traders, deciding upon which to trade with has become a daunting task. The positive side to this fierce competition is a general improvement in standards across the board as brokerages compete on providing the best trading platform software, value-added tools and resources, customer service and on reassuring clients they are a safe custodian of trading account funds.
The downside is that assessing all of these options in the process of coming to a decision can become an extremely time consuming endeavor. However, luckily, we've done a large part of the work for you in our review section and detailed the background information on brokers you need to know when compiling a short-list of candidates. In this review, we cover BOL (Bet Online) Financials.
Company Information
BOL Financials is the binary options offering of major online gaming and financial markets trading website, Betonline. The company's management are among the most experienced to be found in the online industry, veterans who have been around since the dawn of online gaming and trading in the early 90s. Betonline itself was incorporated back in 2004, which in this industry makes it something of an elder statesman. Binary options trading of the financial markets is the most recent product to be launched by the Panama City licensed and regulated broker.
Like in the UK, binary options brokerage is, similarly to spread betting, regulated as a gambling rather than financial product, and BOL's binary options product is regulated under the company's general gambling license.
One major strength of BOL is that the binary options brokerage side of the business is able to accept clients from the U.S., which very few competitors are able to. The company has all the complex licenses to work in the U.S. through the online gaming side of its business with binary options trading able to be conveniently provided under the same umbrella.
Trading Software
BOL Financials' trading platform is very simple and accessible which comes with advantages and disadvantages. With many clients crossing over from online gaming to giving binary options a try the portal has a clear incentive to make placing binary options as easy as possible.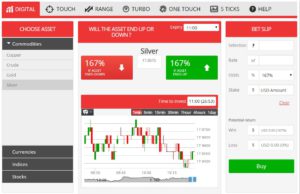 The trading platform is directly available from the 'financials' tab in the main menu and traded instrument, expiry time and position size are all chosen from the same screen. However, despite the simplicity of the platform, 6 different binary options variations are available:
Digital (classic high/low)
Touch
Range
Turbo
5 Ticks (ladder options)
What some more advanced traders will consider a disadvantage is that Betonline's binary options trading platform offers nothing in the way of analysis tools, indicators, newsfeeds and many of the other extra features they will be used to on dedicated binary options-trading platforms. BOL's product is certainly targeted at beginners many of whom will be trading financial markets for the first time. The platform is tailored to that target market and will appeal to this kind of novice trader most.
As well as the browser-based version of the platform, all of BOL's gaming and trading products are available via the downloadable 'desktop client' software.
Mobile
BOL has a specially adapted mobile-friendly version of the website and all of its gaming and trading products, including binary options. However, the company doesn't yet have dedicated native Android or iOS apps and in mobile format the website is still browser-based.
The one-screen simplicity of the binary options trading platform works reasonably well in the mobile format, with the width of the screen simply contracted and the different sections arranged vertically. A dedicated app would be an improvement but the mobile responsive version of the browser-based website does the job.
Assets available
BOL Financials offers binary options traders a good range of tradable instruments over forex, indices, commodities and stocks asset classes. Altogether over 100 different instruments are available, a range which matches most binary options brokers on the market. The forex and stocks asset classes are particularly well-stocked though stocks are all U.S.-stock market based companies.
Stocks such as Manchester United and Fitbit are not available with many other binary options brokers and the companies have clearly been chosen to appeal to sports betters and brand names those less familiar with the stock market will know of.
Considering the binary options trading platform's setting within a gaming site and the fact many traders have probably crossed over from sports betting, this has to be considered a smart move by BOL.
There is also a notable presence of tradable cryptocurrencies within the forex section, something which will appeal to the mass market and matches the fact BOL accepts account deposits in Bitcoin and Litecoin. A good selection of 7 commodities is offered and the one major weakness in the range of tradable assets is indices, with only lesser known options, mainly from the Middle East and Asia, available.
Trading Features, Fees and Payouts
The trading features available to BOL binary options traders come in the form of the six different binary options variations. Digital or classic options involve the trader simply predicting whether the instrument's price will rise of fall over the course of the option, which is between 1 hour and the end of market hours. Turbo Options work in the same way with shorter expiry timeframes, such as between 1 minute and 45 minutes.
In Touch and One Touch Options, in the case of the former the trader chooses a strike price and in the latter the broker does. The instrument's price much 'touch' the strike price at some point before expiry, though in with One Touch options the trader can also predict the instrument price will not touch the strike price set by the broker. In Range Options the instrument must finish within a range rather than just be up or down or touch a particular level and 5 Ticks Options set a tiered series of strike prices with the payout increasing as each level is met.
The minimum stake that an option can be taken out at is $1. While there are other binary options brokers which offer micro stakes, against the industry average of $10 this will appeal to traders who prefer to work with lower stakes and beginners getting to grips with trading.
There are no fees associated with holding an account with BOL or applied to withdrawals and deposits. Payouts are also very good and can be considered higher than industry average, reaching up to 250% for riskier positions.
Bonuses & VIP programs
BOL Financials users can take advantage of the website's general bonuses, with no binary options trading specific bonuses offered. If a deposit is made in Bitcoin, BOL matches the deposit to 100% of value between $20 and $1000. All initial non-Bitcoin deposits come with a 50% top-up bonus and all subsequent 'reload' deposits of at least $50 also come with a 50% top-up.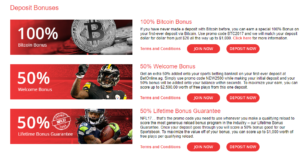 The Bitcoin bonus must see x14 turnover before withdrawals can be made and deposit top-up bonuses x10 turnover. These requirements are relatively modest in the context of standard bonus conditions and unlike the case with many binary options brokers bonuses are not automatically applied, with the user invited to enter the bonus code if they meet the requirements. This makes declining the bonus easier and the process generally more transparent than is often the case.
Deposits and withdrawals
Binary options traders will be very satisfied with the range of deposit and withdrawal options provided by BOL. As well as the standard Visa and Mastercard debit and credit card options and a range of e-payment processors, bank transfer is also possible as is deposit via cashiers check. Additionally, deposits and withdrawals via Bitcoin and Litecoin are supported.
Minimum deposits and withdrawals are both $50 and withdrawal payouts are promised to be processed within 1 day. Depending upon the chosen payout method eg. in the case of bank transfers, there may be some additional processing time required by the payment processor itself.
Customer Support
Customer support is available via telephone and email with agents available 24/7. One potential improvement here would be the addition of live chat customer support functionality. Customer support is also only provided in English at this stage.

Extra Features and Resources
As already mentioned the BOL binary options product is a pure trade-placing platform and no additional features or resources such as financial markets trading educational materials are provided.
Verdict
The BOL binary options trading product, as part of a wider gaming site, doesn't come with the additional tools and resources generally provided by dedicated binary options brokers. Nonetheless, a nice simple trading interface, healthy range of assets, low minimum level of $1 and several different binary options variations will appeal to beginners especially.
The company is also well established with a good reputation built up over many years. As such, there is little to be concerned about when it comes to security of trading account balance and quick, easy withdrawals. This is a quality that should not be underestimated and a major attraction for BOL. Deposits and withdrawals available via Bitcoin and Litecoin cryptocurrencies will also attract traders.
Pros
Minimum $1 stake
5 different binary option formats
Over 100 tradable instruments
Bitcoin and Litecoin deposits and withdrawals
Same day withdrawals processing
Cons
No additional tools or resources provided
No live chat customer support
Platform and customer support only in English
No mobile apps
FAQs
Is BOL Financials a safe binary options broker?
Yes, the well-established online gaming and trading portal has been around since 2004, is regulated and is even licensed to work with U.S.-based traders. Withdrawals are processed within 1 day.
What is the minimum binary options stake?
Binary options begin with a minimum investment stake of just $1
What is the minimum withdrawal?
The minimum account withdrawal value is $50