StockPair became a major player in the binary options field on the strength of its reputation in pair options. (Pair options offer a way to profit on the relative performance of two stocks.) The company has shown the same creative zeal and reliability in catering to binary options traders. That's not to say this broker is perfect. Perfection doesn't exist in this industry. But they come close enough to warrant a test drive. This StockPair review will put the most important aspects of the service under a microscope. You'll learn about the company's trading platform, the types of binary options you can trade, and the assets you'll have at your disposal. We'll talk about StockPair's returns, bonuses and promotions, and level of support offered to traders.
One last note before we get started. StockPair does not offer 60 second binary options currently. You can trade 15 minute pair options here which is plenty fast to be completely honest. Nothing in the following review can take the place of your own experience. Given that, we highly recommend that you visit StockPair.com after reading this page. Take a look around. Explore its features on your own. That's the only way you'll truly know whether you should register an account.
StockPair.com Overview
Official Website – Stockpair.com
Accepting US Traders? – YES
Minimum deposit to start – $200
Maximum deposit accepted – $2000
Minimum withdrawal at any time – $20
Current Bonus Offer – 40% match on your first deposit
The StockPair Trading Platform: What To Expect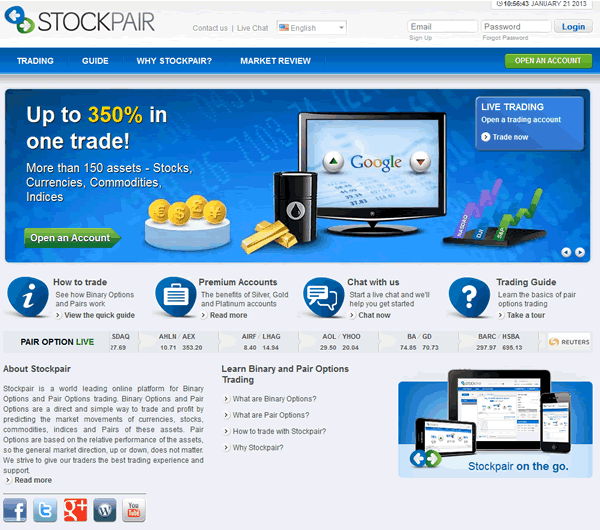 Unlike a lot of binary options brokers, StockPair developed its own proprietary trading platform. The company has full control of the platform, and has designed it to provide the features considered vital by its traders.
You'll be able to trade binary options and stock pair options through the same interface. In fact, a single click will display alternating lists of the assets available for each type of trade.
When you select an asset – for example, gold – you'll be shown the trade's expiration date/time, a price graph that changes in real time, and the potential payouts. You'll also see a "sentiment" gauge that reflects how traders are positioned on both sides of the trade. A drop-down menu at the top will let you choose expirations between 5 minutes and 150 days. The details for the trade will change with each selection.
One of the first things you'll notice when navigating through StockPair's trading platform is how user-friendly it is. Not only is the information for a trade presented in a crystal clear format, but unnecessary details are omitted. Simply put, it's streamlined and elegant.
StockPair Binary Option Types Available To Traders
Here, we arrive at one of the few drawbacks to trading at Stockpair. At the time of writing, you can only trade up/down binary options. These are contracts that allow you to predict whether the underlying asset's price will settle above or below its starting price.
For example, suppose Microsoft stock is trading at $27.70. You can execute a binary option with a 30-minute expiry to forecast that the price will be above $27.70 in 30 minutes. It's a strict either-or trade. Either the price ends above $27.70 or it doesn't. If it does, you'll receive the payout listed for the trade. Otherwise, you'll lose your investment.
If you only plan to trade up/down binary options, this won't bother you at all. A lot of traders focus exclusively on this type of contract since it is simple and straightforward. However, it you want to trade touch/no touch options, boundary (or range) options, and 60 second options, you'll need to find them elsewhere. Click here for a list of binary options brokers.
It is possible that StockPair.com will eventually add other binary option types to its offerings. But be aware that for now, you're limited to up/down contracts.
Stocks, Currency Pairs, And Other Assets At StockPair
After you register and fund your account, you'll have access to the four asset classes offered by most binary options brokers. These include commodities, indices, currency pairs, and stocks. You'll be able to trade four different commodities – e.g. gas, gold, oil, and silver – nine currency pairs, and eight indices.
StockPair really shines in the number of stocks you can trade. From Apple to Zynga Inc., you'll have more than 90 stocks at your disposal. For example, you'll be able to trade contracts for Microsoft, Google, Amazon.com, General Motors, and many other well-known brands. Remember, it's not necessary for the stocks to go up in order for you to make a profit. You can simply forecast that a stock's price will descend below its starting point at expiry.
Are Returns On StockPair Binary Options Competitive?
Payouts at StockPair range between 75% and 85%. That's the range you can expect on most of the up/down contracts offered by the broker. Contracts with long expiries – for example, 150 days – sometimes offer bigger payouts because there's more uncertainty (i.e. risk) involved.
These returns are indeed competitive with those offered by other companies. For example, 24Option – one of our favorite binary options brokers – provides returns in the range of 70% to up to 88% per successful trade. However if the prediction of the trader is wrong, he will lose all of his invested capital. TradeRush offers returns between 65% and 81%. At AnyOption, you can expect to make between 65% and 71% on in-the-money trades.
Keep in mind that the payouts offered by each broker are not directly comparable to each other. Some brokers offer rebates on out-of-the-money trades while others do not. Some offer features that provide traders with more flexibility. These and other facets of each broker's service should be taken into account.
Deposit And Withdrawal Options
First, it's worth pointing out that you don't need to make a deposit to register an account. You can create an account and let it remain unfunded until you're ready to start trading. That gives you an opportunity to take a look at StockPair's features. For example, you need to log into your account to look at some of the technical analysis available for a given trade.
When you're ready to make a deposit, you can do so through your browser with a credit card or debit card. Both work as long as your card displays a Visa or MasterCard logo. StockPair also accepts bank transfers in the event you prefer to use that funding method. However, most people find credit cards to be the most convenient option. The funds are made available immediately to use for trades.
The minimum deposit is $200 and the maximum is $2,000 – at least, in the beginning. The currency of your deposit will dictate the default currency setting for your account. For example, if your first deposit is in U.S. dollars, all subsequent transactions are recorded in U.S. dollars.
You can make withdrawals at any time as long as the amount is $20 or more. StockPair is committed to processing withdrawal requests within two days.
StockPair Bonuses And Promotions
Binary options traders who register and fund new accounts can receive up to a 40% match on their first deposits. There are conditions that apply to withdrawing the bonus amount, so make sure that you read the terms carefully on StockPair.com.
Another bonus offered by the company for certain types of accounts (see Premium Accounts below) is a cash back allowance. You'll receive up to 3% of your monthly trading volume back if your account meets certain parameters.
Premium Accounts At StockPair
One of the unique features of StockPair is its stable of Premium Accounts. These are accounts that have been designed to better accommodate each person's trading activity. There are four levels – Silver, Gold, Platinum, and VIP – and each level comes with a variety of extra benefits.
For example, Gold, Platinum, and VIP accounts receive trading assistance from a senior analyst. They also receive access to trading indicators that are unavailable to Standard accounts. The minimum deposit required for each Premium account type increases by level. The minimum amount for Silver account holders is $1,000; the minimum amount for VIP traders is $50,000.
You don't need a Premium account to trade profitably at StockPair. But having access to the perks that come with such accounts can be valuable.
StockPair Support: Getting Help When You Need It
We've found the support representatives at StockPair to be helpful and professional. Although we haven't had a need to get major issues resolved – the service is low-maintenance and problems are rare – we have reached out to support reps to test their responsiveness. The staff seems well-trained, friendly, and happy to provide any assistance needed.
You can get in touch with a representative via phone, email, live chat session, or by sending a form-based message through StockPair.com. All four options appear to work perfectly.
Is Stockpair A Legit Binary Options Broker?
StockPair is definitely a legitimate binary options broker. At this point, after building a solid track record and reputation in stock pair options, the company has too much to lose by letting the quality of its service slip.
Both novice and experienced binary options traders will find a comfortable home at StockPair. Beginning traders are provided with an easy-to-use trading platform that levels the learning curve. Meanwhile, veteran traders are given plenty of resources – for example, the features found in the Premium Accounts – to improve their trading results.
Before trading with StockPair use http://fastbinaryoptions.com/binary-options-explained-anatomy-of-binary-option-trade/ to learn the basics of binary options trading.
We recommend that you visit StockPair.com and register an account. Take a close look at everything we've described. Assuming you decide to stick around, make your first deposit and reach out to the site's support staff. They can help you to take full advantage of your experience there.
StockPair
In-depth look at the Pair Options broker called StockPair.com
Written by:
Always Bets High
Date Published: 03/25/2013
Learn about trading pair options at StockPair.com. Our review of Stock Pair covers all the important details new traders should know before investing their money.