THIS BROKER HAS CLOSED AND IS NO LONGER AVAILABLE
_____
GOptions is a UK-based broker with a strong reputation.  They offer traders the chance to trade 60-second options, and you'll notice if you do some research that online reviews for this broker are very positive.  They aren't as well known as some of the other brokers we recommend, but they're quickly rising to the top of many recommendation sites.  Along with 60-second trades, they also allow you to High Low and One Touch trades.  Option Builder is available as well if you would like to further customize your contracts.
Quick GOptions Details
Official Website:  http://www.goptions.com/
Top trade feature: 60 Second Options
Minimum Deposit: $200 USD
Headquarters:  London, United Kingdom
Phone Number:  +44 203 608 1331
USA Traders Allowed
Trading Platform: SpotOption
Recently added 30 second options
Special Bonus – Claim 4, $25 risk free trades with your deposit of $500.
In this review we will introduce you to the GOptions platform, give you a quick tour of the website, and introduce you briefly to the assets and features on it.  By the time we're through, you'll be ready to trade.
GOptions Trading Platform:  An Overview
Like many other binary options brokers, GOptions makes use of the SpotOption platform.  SpotOption is very popular because it is fast, easy to use, and simple to learn.  Looking at the platform, you'll quickly and intuitively understand how to trade 60-second options or any other type of trade.  Within just minutes, you could be making money on GOptions.
SpotOption allows you to trade directly on the GOptions website without any download.
Asset Selection:  What Can You Trade at GOptions?
GOptions offers you dozens of different choices as far as underlying financial instruments.  You get to choose from around 60 different currencies, stocks, indices, and commodities to trade.  One great thing about 60-second trades is that there are a ton of trade opportunities even if you are just following one or two assets.  For traders with a more focused approach, this means that you don't really need 60 different assets, but they are there if you want them.  And if you do decide to try some other expiry times, you may very well find that you need access to all those markets to find great trading opportunities.
Types of Binary Options Available at GOptions
Other than 60 Second options, what other types of trades are available at GOptions?  The most basic type of binary options trade is the High/Low trade.  You simply choose an asset and wager whether it will be trading above or below its current level when the expiry time is reached.  60 Second trades are actually based on High/Low contracts.  They're the exact same thing, but they span very short expiry times of one minute.
You can also place "One Touch" trades, which is a wager that a given asset will touch a given trigger price by the time the trade expires.  Option Builder is a feature which is great for advanced customization of trades; with Option Builder, you can specify your own expiry time.  High/Low and One Touch are the most common trade types; not every broker offers Option Builder or 60 Second trades.
Details on Types of Trades can be found here
GOptions Deposit Details:  How to Fund Your Account
GOptions has one of the lowest minimum deposit thresholds out there.  You can get started with as little as $100, though we recommend you aim for $200 or even $500.  Why invest more?  Doing so allows you to trade more money while still assuming a low risk profile by trading a small percentage of your account.  The other reason to start with more is the minimum withdrawal limit, which is also set to $100.  If you deposit $100 and lose a trade, you cannot withdraw your remaining money until you rise back over the $100 threshold.  By depositing a larger amount, you avoid this problem altogether.  You can trade in USD, GBP or EUR, and you can deposit using credit or debit card, CashU, MoneyBookers (Skrill) or wire transfer.
Click here for steps to becoming a profitable binary options trader
GOptions Bonuses
The other reason to consider depositing more is so that you can take advantage of GOptions awesome bonuses and features for larger accounts.  While GOptions can accommodate traders with very small accounts, they have a lot more to offer traders with larger accounts.  If you deposit $100-$499, you can receive a 25% match bonus, but the bonus amount increases if you deposit more money.  For those who deposit $10,000 to $250,000 a 100% match bonus is offered.  At higher account tiers, additional benefits are offered, like a personal account manager, a private chat line on Skype for customer service, weekly training in trade strategies, trade alerts and more.
Binary Options Return Rates at GOptions
The average payout on winning trades at GOptions is 85%, which is pretty high.  Many brokers will only pay out 65-75%.  The out-of-money refund can range from 0-10%.  Higher payouts are available for certain types of trades (like One Touch trades).
Customer Support at GOptions
You can contact customer service at GOptions via live chat, email or telephone during standard business days and hours.  As mentioned previously, personal account management and a private Skype line for customer service are available at the higher account tiers, which is fantastic.  It appears that for large account holders, GOptions may offer one of the most comprehensive services in the industry.  Their headquarters are in London, and they even provide a street address and a map in case you want to visit them.  Good luck finding that kind of transparency anywhere else.
Bottom Line on GOptions:  Should You Sign Up?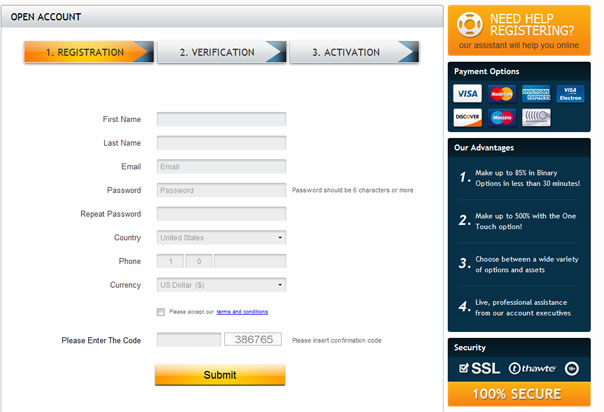 If you're in search of a high quality broker that offers 60 Second options, GOptions is definitely a candidate to consider.  They have a plethora of other exciting features and benefits for large account holders, but they make 60 Second options available to traders with very small accounts too, maintaining a minimum deposit requirement of just $100.  Deposit more and you'll be able to enjoy more flexibility and security trading, plus you can take advantage of some of the highest bonuses in the industry.