You'd be hard-pressed to find a negative 24Option review. This particular binary options broker is one of the most respected companies in the industry. But trust isn't just given as a gift; it's earned. But popularity isn't just given as a gift; it's earned. And 24Option has earned it in spades with its responsive support team, relatively high pay-outs in case of successful trade, demo account and user-friendly trading platform. See more popular binary options brokers.
Overview of 24Option
Official Website: 24Option.com
Minimum Deposit: $250
Minimum Trade: $24
Average Returns: 70-88% on successful trades
Offers 60 second trades: YES
Scipio Trading Platform
But we're getting ahead of ourselves.
In the following review, we'll provide a close-up look at various aspects of trading at 24Option. We'll cover the features you'll find, the assets you'll have access to, and the potential returns you'll enjoy on binary options that expire in the money. You'll notice that we're excited about this broker. It is one of the best we've come across. Having said that, we encourage you to visit 24Option.com and experience trading binary options there for yourself. Investors can lose all their capital.
Think of this review as a road map and guide to the broker's service.
24Option Trading Platform Summary in 60 Seconds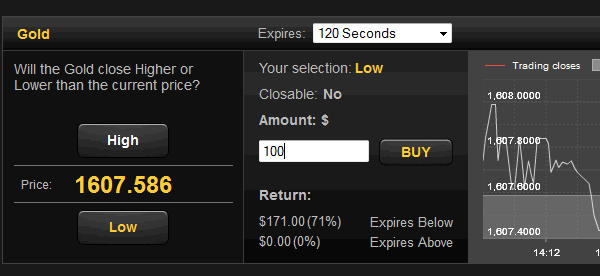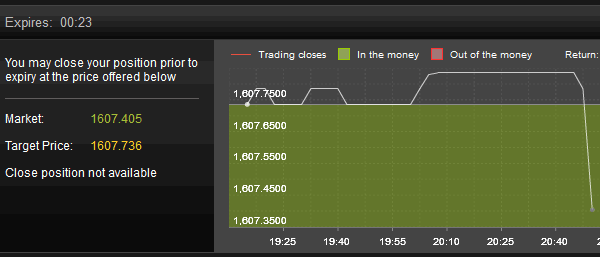 Because the trading platform is essentially the face of the binary options broker, it should be easy to navigate and use. It should also be flexible, providing plenty of options and features.
24Option's trading platform doesn't disappoint. It's loaded with a range of binary option types that are accompanied by competitive returns. In addition, the data for each trade – for example, the trade's current price, its price graph, and its potential return – are displayed in a clear and concise manner.
The platform is designed by Scipio. There's no software to download. The entire trading experience can be enjoyed through your browser or mobile device. It's also worth mentioning that you'll have access to a demo account after you register at 24Option.
Options And Features Available At 24Option
Let's start with the different types of binary options you can trade. There are three basic types:
Up/Down
Short Term (60seconds, 2 minutes, 5 minutes)
100% Pay-out
With up/down contracts, you predict whether the price of the underlying asset will be up or down from its starting price at expiration. With 100% pay-out options, the trader must predict whether the price of an underlying asset will close above a price or below another price. In case the prediction of the trader is correct, he will get 100% pay-out per successful trade. However, if the prediction of the trader is wrong, he will lose all of his invested capital. Please note that this type of option carries a higher risk of full capital loss.
You can also trade 60 second options. These are basically up/down trades that expire in 60 seconds. Few brokers currently offer them. But the contracts are becoming very popular among traders. That means more brokers are likely to add them to their respective stables in the near future. For now, you'll find them at 24Option.com.
http://www.fastbinaryoptions.com/60-second-binary-options/ will give you more information on 60 second trades.
In the event you'd like to get out of an active trade before it expires, you can close it early. The feature is called "early closure." You'll receive a percentage of the posted return (assuming the trade is in the money at the time you close it), which is placed immediately into your account. Early closure can come in handy if you suspect your trade is about to turn against you. However this option may not be available at all times.
Underlying Assets At 24Option: Stocks, Commodities, And More
You'll be able to trade four main underlying assets classes: stocks, indices, commodities, and currency pairs (also called FX pairs). 24Option provides a fair range of underlying assets within each class. You'll have access to 9 different stocks (including Google and Apple), 13 indices, 3 commodities (gold, silver, and oil), and 11 currency pairs.
Some traders like to specialize. For example, a lot of folks follow gold closely, and have practically developed a sixth sense about movements in its price. They stay away from other underlying assets and focus their attention on gold.
Other traders like to specialize within a particular underlying assets class, such as FX pairs. They rarely venture into other classes, preferring to stick to what they know best.
Still other traders spread their risk across underlying assets in all four classes. They have no favorites. Instead, they're receptive to any trade that can deliver a fast profit.
The range of underlying assets you'll find at 24Option.com is reasonably good, but less comprehensive than the underlying assets lists you might find at other binary options brokers. But this might not matter to you depending on your trading strategy.
Potential Returns At 24Option: How Much Can You Make?
As noted earlier, 24Option's trading platform offers competitive returns. You can potentially earn up to 88% on most in-the-money trades. However if your prediction is wrong, you will lose all of your invested capital. Compare this to the 65% to 75% offered at other popular brokers, returns hover between 70% and 88%.
Investors can lose all their capital by trading binary options.
Creating And Funding Your Account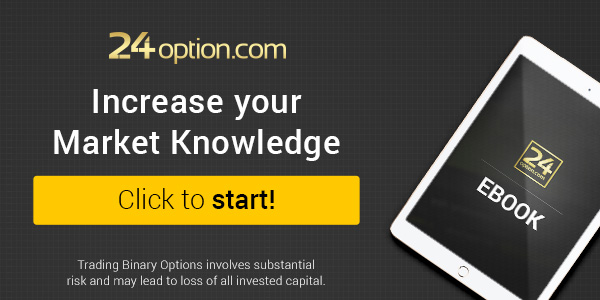 It's very simple to create an account at 24Option.com. From the home page, click the "Sign Up" link. You'll be taken to a page that asks for your basic contact information (name, country, email address, etc.). You'll also be required to choose a username and password for your new account. Once the necessary fields have been completed, simply click the large, yellow "Submit" button.
At this point, your account is active. Of course, there's no money in it because you haven't yet made a deposit. That's your next step. You'll be to asked to select from among several funding choices, such as credit card, debit card, and Diners Club. Fill in the amount you'd like to deposit, along with a few other details you'll be asked to provide. Then, click the yellow "deposit" button.
The minimum deposit accepted by 24Option is $250. You can also fund your account with a bank wire, but the minimum deposit using this method is $1,000. Also, keep in mind you'll need to pay a wire fee to your bank.
Your funds should be available to you soon after you make your deposit online (wires take longer). You'll see the money sitting in your active trading account.
Getting The Support You Need At 24Option
In our experience, the support team at 24Option has been highly responsive. Once you register and fund your account, contact support to have them set up a live demo account for you. You'll be able to trade with play money rather than putting your own cash at risk. That's helpful if you want to get acquainted with the trading platform before executing real-money trades. http://www.fastbinaryoptions.com/binary-options-demo-trading/ will show you how demo trades are for your advantage.
You may also have questions that aren't addressed on the 24Option.com website. Pick up the phone or open a live chat session with support to get the answers you need. (You can also email the support staff.) The staff seems to be very well-trained.
Remember, it's not a matter of whether you'll ever need to speak with the support team. The question is, can you count on them when you need help?
Bottom Line: 24Option Scam Or Legitimate Binary Options Broker?
There aren't many binary options brokers that have as good a reputation as 24Option. That's not to say they're perfect. Perfection doesn't exist in this industry. But they are popular and have a track record of sending out payments without undue delays. They also keep the minimum deposit low ($250) as well as the minimum trade amount ($24). Free demo accounts, a healthy range of underlying assets, competitive returns, and a responsive support team make 24Option one of our favourite brokers. Investors can lose all their capital by trading binary options.
As we mentioned at the beginning, see for yourself. Visit 24Option.com and explore. Take a look at the features and trading platform. Give everything a test drive. That's the only way you'll know whether you like the experience enough to make 24Option your binary options broker of choice.

24Option
24Option is a legit broker with 1 minute binary options, 2 minute and 5 minute options. They maintain a positive reputation, offer very competitive payouts in case of successful trades and have withdrawals without undue delays. Investors can lose all their capital by trading binary options.
24option Trading Platform
Written by:
Always Bets High
Date Published: 06/27/2016
User-friendly platform, multiple types of binary options including short term and 100% pay-out options for the fast binary options. 60 second options available all trading session.